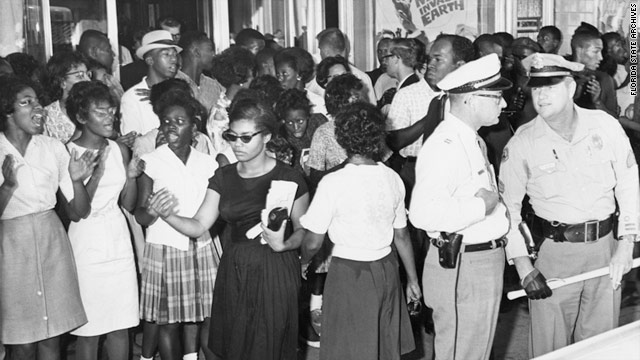 Stories live forever, storytellers don't.

-Patricia Stephens Due
I was not familiar with Patricia Stephens Due until I recently stumbled across an old interview with her on NPR. Growing up, most of what I learned about the Civil Rights Movement was about the work of Dr. King and the March on Washington.  In school I didn't learn a lot about the everyday women who helped the movement that changed our country and resonated among Africans around the world.
Patricia Stephens was born and raised in Florida and was heavily involved in the struggle for equality from an early age. She participated in the Tallahassee jail-in, for which she is most well-known, but she fought on the front line for equal rights and deserves more than just an annotation in Civil Rights history.Born in 1939 in Quincy, Florida, Patricia became an activist at a young age. In 1952, when she was only 13 years old, she and her sister Priscilla demanded to be served at the "whites only" window at her local Dairy Queen. A few years later, Stephens formed a local chapter of the Congress for Racial Equality (CORE). CORE hosted a non-violent workshop for Florida A&M University students to prepare for a protest against the segregation of Woolworth lunch counters. On March 12, 1959, as the protesters marched through the FAMU campus on their way to downtown Tallahassee they were violently confronted by police and tear-gassed. The teargas hit Stephens, who was leading the march, directly in her face and her eyes were permanently damaged.
Almost a year later, on February 20, 1960, Stephens and 10 other students were arrested for sitting at the Woolworth lunch counters and found guilty of civil disobedience. Refusing to pay the $300 fine they instead opted to have a "jail-in" instead. They served 49 days behind bars and garnering nationwide attention. Stephens and the other students received an outpour of support for their efforts from notable activist and politicians like Dr. Martin Luther King Jr., Eleanor Roosevelt and James Baldwin. Upon release, Stephens and her comrades went on speaking tours to protest segregation, which led to further arrests.
While attending FAMU, she met John D. Due Jr., a civil rights attorney and Freedom Rider. The couple wed in 1963, and had three daughters to which they passed along their activism. Due co-authored a book with her daughter, Tananarive, titled Freedom in the Family: a Mother-Daughter Memoir of the Fight for Civil Rights.
While her studies were continually interrupted by protests and arrests, she eventually graduated from FAMU in 1967 and she was later recognized by her alma mater when they presented her with an honorary doctorate in 2006, at the age of 67.  In maintaining her dedication to the struggle and promoting equality for future generations, she and her husband founded The John Due and Patricia Stephens Due Freedom Endowed Scholarship, which provides $1,000 annually to a FAMU student who plans to use the legacy of the Civil Rights Movement to promote equality for all.
Throughout her life, Patricia Stephens Due's dedication to Civil Rights has been acknowledged by prestigious awards such as the Eleanor Roosevelt Award for Outstanding Leadership, the Ghandi Award for Outstanding Work in Human Relations and the Florida Freedom Award from the NAACP. On May 11, 2011, the city of Tallahassee honored her by declaring it Patricia Stephens Due Day.
Sadly, the world lost Patricia Stephens Due on February 7, 2012 to thyroid cancer—four days before Whitney Houston passed away. While the loss of Whitney Houston struck a chord with me, the sole tragedy in the story of Patricia Stephens Due is that, like so many who fought for freedom and equality, her story is not one we hear often enough. During her early years as a protester, Patricia Stephens Due was often heard saying "ordinary people can do extraordinary things." Her life and legacy are prime examples that anyone can make a difference. Dedication, passion, and demanding that "This ends now!" can change the world and leaving lasting benefits for all of us.Patricia Stephens Due faced adversity and violence but she never lost sight of her goals and her activism made it so Whitney Houston wasn't signing to segregated audiences. While we continue to mourn the loss of a diva, let's remember to salute the unsung foot soldiers that held our country accountable and continue the legacy of activism to demand equal respect for allof us.
by Folashade Kornegay